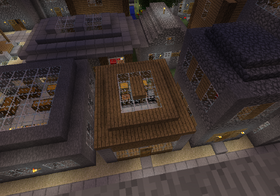 Yummie's Take-Out Fast Food is a tiny take-out restaurant located on Main Street next to the Vertoak City Grocery Store. The restaurant is made out of glass blocks, stone slabs, oak wood planks, and wooden slabs.
Yummie's contains 2 oak wood log tables, each with a wooden seat behind it, and a double stone slab counter Behind the counter are 3 furnaces, 2 crafting tables, 1 empty chest, and another chest containing 9 bowls of mushroom stew, and a stack of bowls, and 1 torch below each chest. If one looks up at the ceiling, they will notice that most of the restaurant's roof is a large window to look up at the sky with.
If a section of the back-right corner of the restaurant is broken, it can be seen that that section is above a small bit of the Under City.