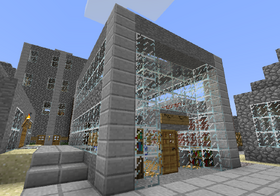 The Vertoak City Aquarium, also known as Things That Swim!, is an 2-story attraction building located next to The Aged Plank Restaurant and the Vertoak City Library on Jee Court. It is made out of glass blocks, cobblestone, and stone slabs. Because it is an aquarium, a large tank filled with water is located on both stories of the building, housing the game's only water mob so far, the squid. However, in the game, all mobs (excluding cats and dogs) can despawn, meaning there may or may not be a squid in the tank.
On the first floor is the top of the squid tank, the ticket desk, a pamphlet shelf in front the stairs going down to the second floor, and a bookshelf and wooden bench behind the desk. A wooden fence surrounds the top of the tank so that the visitors of the aquarium don't fall in the tank. At the bottom of the tank, one can see a trapdoor which leads directly to a part of the sewers.
One may get down to the second floor by going down the wooden stairs. On this floor, the tank may be viewed from the bottom where it can be seen that the tank is lit up by 3 blocks of glowstone. Next to one of the sides of the tank, there is a marine biologist's desk made out of stone slabs where visitors can feed the squid if they'd like. Also behind the desk is another wooden bench.