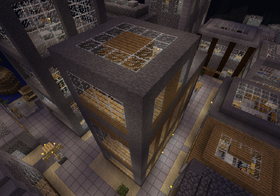 The Vertoak City Times Newspaper is the name of the city newpaper and its office. This page only describes the office. The newspaper's office is built out of stone, oak wood planks, glowstone, and wooden stairs, is 3 floors tall, and can be found on Main Street. The large cactus-making factory Cactus Co. is behind the office.
The newspaper office's first floor contains 3 stone slab desks, 1 long stone slab table, 6 wooden chairs, and 3 bookshelves, each with a torch on it. 2 stone slab desks, 5 bookshelves, 10 wooden chairs, and a table comprised of 4 oak wood logs are located are the second floor.
And finally, story floor is only half a floor and is very small. The other half of the floor is the roof of the other 2 floors. Located on this floor are 2 cobblestone desks, each with a torch on them, a bookshelf, and 2 wooden chairs. The other half of the floor, the roof, only has a large glowstone light on it. It can be accessed via a wooden door in the room.