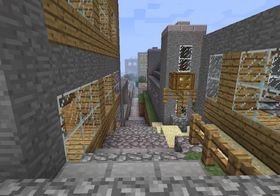 Seed Avenue is a short road which barely has anything on it. It appears to have many buildings on it, but in fact, most of them are just sides of buildings touching the street. It technically only has 2 buildings on it.
Points of Interest
Edit
Ad blocker interference detected!
Wikia is a free-to-use site that makes money from advertising. We have a modified experience for viewers using ad blockers

Wikia is not accessible if you've made further modifications. Remove the custom ad blocker rule(s) and the page will load as expected.