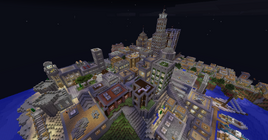 Old City is a district of Vertoak City which is the original part of the city, north of the New City and Up Town. It contains the oldest buildings, including the Capital and the Cactus Co. Factory and Head Office. There is a subway station located underneath the Capital.
The Oldest remaining building is the Cactus Co. Office building. The next oldest would be the NRC (Nether Research Center). The first two buildings ever created were located where the Police headquaters is located. There is a Plaque in the neighboring tower commemorating those two buildings.
Ad blocker interference detected!
Wikia is a free-to-use site that makes money from advertising. We have a modified experience for viewers using ad blockers

Wikia is not accessible if you've made further modifications. Remove the custom ad blocker rule(s) and the page will load as expected.