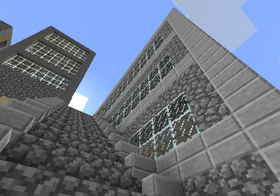 Coordinates: -54 157 82
The Grand Ballroom is a dancing hall attraction in between the Town Hall and The Bear's Head Bar. It is 3-stories tall, and is made out of cobblestone, glowstone, and stone slabs.
The first story of the ballroom is full of many tables made out of a block of glowstone and 4 wooden chairs. There are 9 of these tables, and also the welcome desk to the ballroom is located on this story. For people looking for the museum, there is a sign on the desk showing its coordinates. Downstairs, on story two, most of the room is used up by a stage with what is possibly a DJ table made out of iron blocks, jukeboxes, and note blocks. A doorway by the tables leads to a waiting area for the train station the Town Hall is above.
A door next to the stage leads down to story three, with the first room possibly being a kitchen. This room contains 13 crafting tables, 4 large chests, 2 small chests, 10 furnaces, and 6 pools of water trapped by oak wooden slabs, these possibly being sinks. Another door behind the stairs goes to the staff quarters, where the staff of the Grand Ballroom stay during their breaks. The staff quarters contains 6 beds, 2 bookshelves, 1 crafting table, 1 large chest, and 4 normal-sized chests.
The Grand Ballroom is the same building as the old museum. It took the museum's place after the museum moved. This is the reason why the sign with the museum coordinates can be found on the first story.