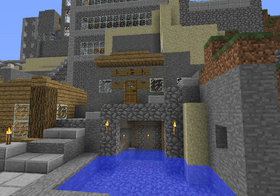 The Fish Market is a building full of food stalls selling fish and fish-related food that used to be in the Barnegat Bay area. It is located on Cliff Road next to The Bear's Head Bar and in front of the Grand Ballroom, and is primarily built out of stone, with glass block, oak wood slab, and wooden stair additions. The Fish Market only has 1 floor, which only contains 1 large room, and this room contains the fish stalls. A door leads to an alley below, and this door is also the back entrance. Each stall also has either one or two chest with the items the stall sells. Most chests contain the sold item and ice blocks to keep the sold items fresh.
Cal's Calamari
Edit
This stall only has one chest, which contains 11 ink sacs to represent the calamari it sells. There are 9 ice blocks in this stall's chest.
The Fish Monger: Fresh Fish
Edit
In one chest of this stall are 8 ice blocks and 7 cooked fish, while in the other there are 20 cooked fish and 6 ice blocks. Out of the total fish in the second chest, 12 of the 20 are divided into 2 groups of 6 cooked fish.
Catch of the Day! Cold Fish
Edit
In the first chest of this stall are 4 raw fish and 1 ice block, and in the second are 10 ice blocks and 33 raw fish, and 20 of these raw fish are stacked into 4 groups of 5 raw fish.
The Blue Marlin Fish Outlet
Edit
The first chest of The Blue Marlin has 9 raw fish and 9 ice blocks in it, while the second chest of this stall is nearly empty, only having 1 raw fish and 1 ice block in it.
Fried Feast Cooked Fish
Edit
This last stall's first chest is completely full of cooked fish, and the second chest of the stall contains 9 cooked fish, along with 3 netherrack blocks with 3 fire items above them to keep these fish cooked.
If one looks closely at the sign to the right of the entrance, they will notice that the word "Market" is incorrectly spelled as "Markey".