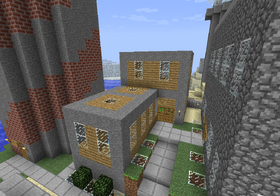 Decker and Decker Recording Studio is a 2-story attraction building next to The Lighthouse and behind the Captain's House in the Barnegat Bay area. It is located on Sandstone Boulevard, and Vertoak Academy is across the street from it, as well as Merrisonace Bridge being behind it. The studio is primarily built out of stone and oak wood planks. Decker and Decker Recording Studio is most likely used as a building to record singers singing songs they have composed.
The first story is made up of 3 rooms: the lobby, and the 2 rooms used for recording. The lobby has a green and lime green-striped wool pattern for its floor, a double stone slab counter in one of the corners with a half door gate to get inside it, and a staircase leading to the second story, with 2 bookshelf blocks below the staircase. The first room of the recording rooms contains 2 levers for controlling the recordings, 2 wooden chairs, and a window to see inside the other part of the recording rooms. The first room's floor is cobblestone. The second room or second part of the recording rooms is completely bare with the exception of two redstone torches, most likely meant to be microphones. A cyan and blue-striped wool pattern is the second room's appearance of the floor.
The second story of Decker and Decker Recording Studio is composed of only 1 room, which appears to be the office of the manager of the studio. It contains 2 oak wood log desks, each with a wooden chair behind them, and a desk made out of and oak wood log and 2 stone blocks. A wooden armchair is behind the desk. Much like the top story of the office of The Vertoak City Times Newspaper, the studio's second story only takes up half of the whole story.