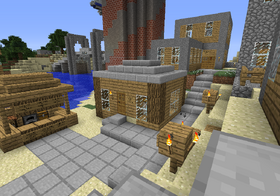 The Captain's House is a small home in the Barnegat Bay area made out of oak wood logs, oak wood planks, glass blocks, and stone slabs. The house is most likely for boat captains of ships and boats to rest in while their boat is docked. An amusing sign on the door of the Captain's House reads, "No touchy". Decker and Decker Recording Studio is behind the house, and the "On the Water Location" of Cheapers Creepers is next to it.
The house is only 1 room, and in the room is a bed, a note block, a furnace, a crafting table, and a large chest containing 1 flint and steel and 23 snow blocks arranged in the pattern of what appears to be a wheel or snowflake. The floor is the room is stone.
Another grammar error in Barnegat Bay can be found on the door of the house. The sign that should say "Captain's House" says "Captian's House".