Coordinates: maybe 27 219 69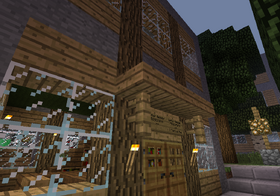 Better Reader Bookstore is a small shop in the spawn area located beside Ethereal Antiques. The bookstore is located on 2 Central Avenue. It, of course, sells books. The store has two stories and both have green wool floors. The check-out counter is located on the first story, and two written books, Random Ramblings and Human History, are inside a small chest on the second story.
Book Genres
Edit
Nine different types of books are sold in Better Reader Bookstore. This is the full list of them in no order:
Horror
Action
Sci-Fi
Fantasy
Teen
Classic Novels
Reference
Cookbooks
Self-Help
Version History
Edit
Version 10: The bookstore is given an address and the two written books mentioned above are added.
Ad blocker interference detected!
Wikia is a free-to-use site that makes money from advertising. We have a modified experience for viewers using ad blockers

Wikia is not accessible if you've made further modifications. Remove the custom ad blocker rule(s) and the page will load as expected.